Metallic Building and Industrial Structures
AP Dynamics' structural experts can help you maintain and improve structural integrity to ensure safety to personnel and equipment on site. Correctly designed structures are key to ensuring long-term operation.
Static and Rotating Equipment Skids
Conducted dynamic and lifting analyses.
Harmonic analysis performed to simulate the behaviour of the structure and ensure that the vibration of the overlying equipment was within industry accepted guidelines.
Recommend pile layout.
Recommend lifting lug geometry and weld.
Results:
Maintain safe vibration levels.
Avoid future structural and mechanical problems.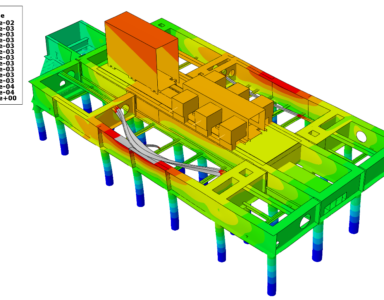 Cory Structural FEA
Elevated vibrations caused by the ID fans located on the top floor of the Cory Potash Plant.
Model of the whole structure and vibration measurements showed that under current operating conditions, unavoidable imbalances in the fans are causing the supporting beams to vibrate.
Results:
Recommended that some of the supporting beams be further reinforced by trusses and bracing.