Regardless of the scope, AP Dynamics' team of experts can help you achieve reliable operation of your water treatment plant. With over 20 years of experience, our experts have the know-how to solve any challenge you may be facing. Our experience coupled with state-of-the-art technology ensures cost-effective and accurate results.
Produced Water Storage Hub
As unconventional development continues to ramp up, sourcing freshwater has become more difficult as Exploration and Production (E&P) companies face higher competition from competitors and municipalities.  Producers need to consider developing strong water management plans to stay competitive.  Companies should start looking at produced water and flow-back as an asset, which can be optimized to extract value out of every m3 of water used, as opposed to a liability.  This doesn't need to be expensive.  A solid water management plan can produce cost savings.
Our team has successfully planned and executed the storage (60,000m3), transportation and distribution (pipeline) of Frac fluids to support well completion work in the Kakwa area. This has resulted in a significant decrease in the reliance of fresh water for completion activities.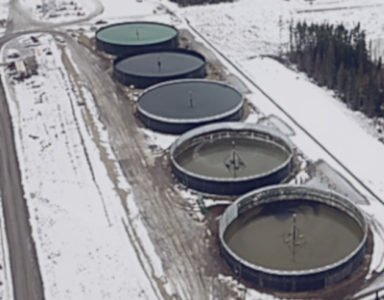 Skim Tank and Inlet System Study
The studies were performed as part of the root-cause investigation of the tank internal past failures.
A CFD model of the skim tank internals, including the inlet device, was created and analysed for various flow conditions.
A finite element model of the entire tank was created to determine the mechanical natural frequencies of the tank structure, with focus on the baffles and stiffeners.
Results:
Using the CFD results in conjunction with the FEA results, the root-cause of the stiffener failures was investigated and recommendations to avoid future failures were presented.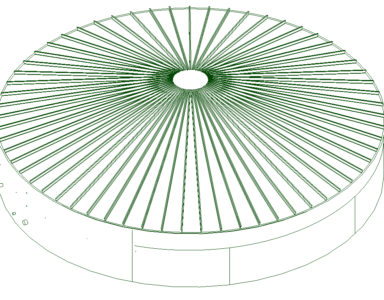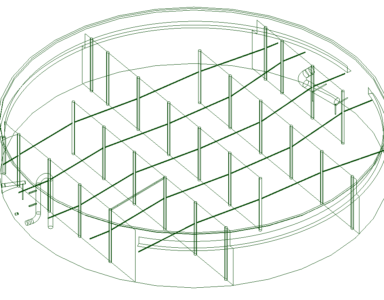 Vibration Survey and Analysis Vertical Turbine Pumps
High vibration levels were reported on the motors.
Vibration and Pulsation measurements were acquired through the pumps speed range.
Impact test were performed on all pumps to calculate the mechanical natural frequencies of major components.
A finite element model was constructed for modal analysis.
Results:
Modification of the pump mounting assembly was required to increase the mechanical natural frequency.
Integrity: Mitigated vibration risks and potential costly failure during operation.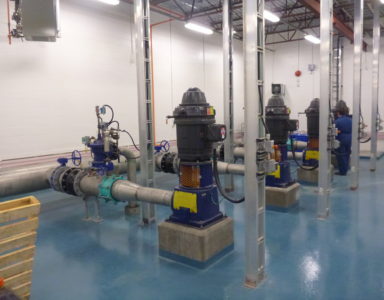 Torsional Vibration Analysis on Centrifugal Pumps
Torsional vibration analysis was required to install new high efficiency motor and shaft coupling.
In addition to the torsional analysis the client requested to design and to prepare construction drawings of the new motor base support to fit into the existing layout.
Results:
New motor base design ensured safe operation.
Integrity: Increase of system reliability by reducing the risk of failures during operation.