Reduce operational downtime and increase production by using our team of experts to assess and mitigate potential valve site problems and introduce design improvements that can assist you in assuring consistent operation.
Valve Station Stress Analysis
The valve station was checked for code compliance.
Supports loads were checked to ensure safe operation of the pipeline.
Results:
Ensure code compliance of the design.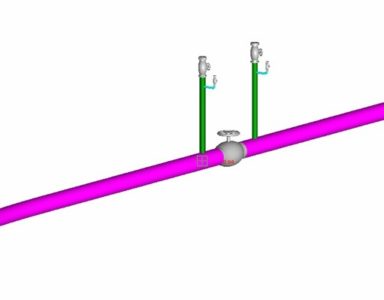 Valve Stations Stress Analysis
Pipe stress analysis performed for 5 control valve and block valve sites along the Keephills pipeline.
Analysis performed per CSA Z662 Clause 4 (Pressure, Sustained and Thermal Flexibility) in AutoPIPE™.
The analysis predicted stresses from thermal expansion, dead weight and internal pressure and compared against code requirements.
Results:
Ensure code compliance for installation.