As one of the leaders in the industry with over 20 years , AP Dynamics has developped cutting-edge expertise to design and to manage the integrity of your pipeline assets anywhere from 2 to 52 inches in diameter. With public scrutiny and environmental requirements more intense than ever, you can confidently rely on our team to deliver, within the project constraint, high-quality analysis and services. Our technical deliverables are considered the bench mark of the industry and are often used for submissions to the regulatory bodies. AP Dynamics helps you to ensure safe and reliable operation of pipelines throughout their lifespan.
AP Dynamics has proudly been involved in:
Keystone
Keystone XL
Trans Mountain
Energy East
NGTL Expansion
Northern Courier Pipeline
Kenosis-1A
New Pipeline Design
Project scope included 72 Km of new NPS 20 pipeline to transport synthetic crude oil to a terminal facility.
The terminal facility and pipeline interface were analyzed to meet the stress and displacement code requirements, client design specifications and engineering best practices.
Results:
System design ensured safe operation
Extended equipment longevity and minimize maintenance costs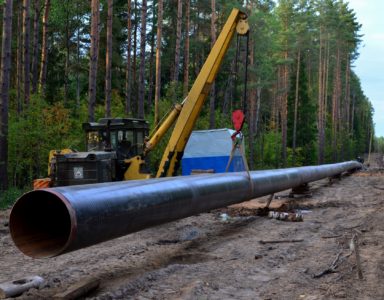 NPS 30 Pipeline Assessment
The pipeline crosses a lake using an aerial suspension bridge. The line has never been put into service for several decades. The client intended to run an Inline Inspection (ILI) tool through the line for inspection.
Complex finite element model of the entire cable-stayed suspension bridge supporting the pipeline was developped.
Dynamic pipe stress analysis was carried out to simulate the effect of the movement of the ILI tool.
Environmental and operating loads were included in the analysis.
Results:
The analysis confirmed that the inspection using the ILI tool could be carried out safely.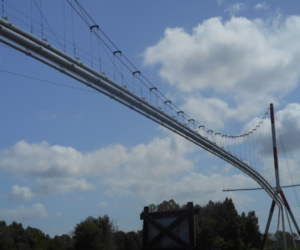 Post Buckling Behavior
High fidelity finite element analysis was performed.
Nonlinear post-buckling behavior was simulated.
Results:
The client was able to determine the root cause of the failure and take steps to rectify the situation.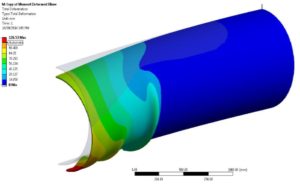 Pipeline Integrity
High vibration on a pipeline that was connected to a hot tap was noticeable by the naked eye and were of high concern for the pipeline.
Field vibration measurement was performed to identify the problematic locations.
Subsequently conducted a static and transient stress analysis of the pipeline as well as a structural analysis of the pipe supports, in order to ultimately determine what modifications can be made to control the vibrations in the overall system.
Results:
Integrity: Mitigated vibration risks and potential costly failure during operation.