Launcher and Receiver Stations
Pig launcher and receivers are an important part of the modern pipeline systems. Reliable operation of these facilities is a key to maintaining the integrity of the pipeline. Our team can assist you with greenfield or brownfield developments of any size to ensure safe and long-term operation that conform to code and client requirements.
Launcher Stress Analysis
Launcher and pipeline interface were analysed to meet the stress and displacement code requirements and engineering best practice: CSA Z662 Code Stress Compliance.
Results:
Confirmed code compliance for installation.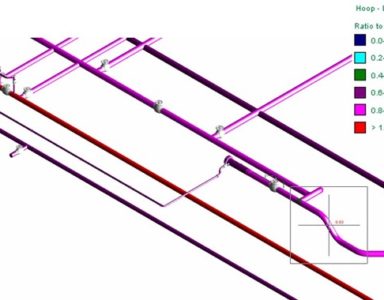 Launcher and Receiver Stress Analysis
Client requested a detailed stress analysis and evaluation of two large diameter pipe elbows which were affected by the launcher and receiver assemblies.
The stress analysis was performed using Bentley AutoPIPE™.
The objective of the stress analysis performed was to determine the operational stresses that the affected elbows may experience and to compare these results against the applicable stress design requirements of the design code CSA Z662-15 Clause 4 and client's supplementary combined stress criteria.
Results:
Ensure code compliance for operation.