Decades of experience allow AP Dynamics to confidently evaluate vessel design. From improving existing assets to designing new ones, we can help.
Refrigeration Compressor Oil Separator Nozzle Fatigue Analysis
High vibration measurements observed at several nozzles attached to the refrigeration compressor oil separator vessel.
Conducted a fatigue life study on the worst case nozzle.
The fatigue life was analyzed against the ASME fatigue design procedure standards.
Results:
Integrity : the study found that the fatigue life of the nozzle did not meet the infinite fatigue life criteria.
Quality Standard: Satisfied client high technical expectations.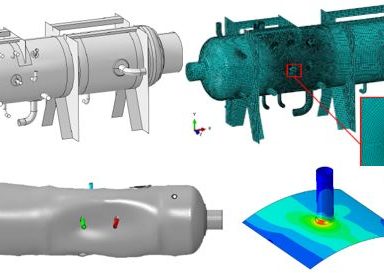 Scrubber Dynamic Analysis
Excessive vibration of vertical scrubber bottles observed at client reciprocating gas compressor facility.
Question of whether soil conditions had changed for the worse, becoming less stiff.
Foundation study performed.
Determined root cause of vibration and recommend mitigation.
High Fidelity 3D Finite element Analysis included piles.
Reinforced concrete and discrete masses and discrete excitation.
Forced response and modal analysis performed.
Iterated with different soil properties.
Results:
Eliminated soil as a contributor to the vessel vibration.
Designed an above-ground structural component to strengthen and stiffen the vessel foundation.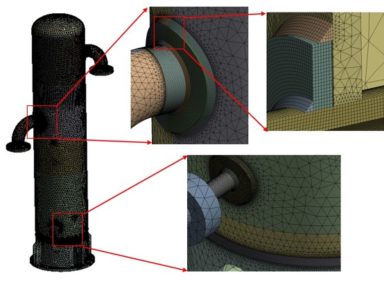 Compressor Pulsation Bottle Nozzle Stage 1 Drain Nozzle FE Analysis
Finite Element Analysis (FEA) study performed on the Inlet Compressor Pulsation Bottle Nozzles based on the elevated vibration recorded from the field vibration survey.
Torque measurement using strain gauges assessed in FE analysis in order to validate results of the analysis.
The FEA model together with field strain and displacement measurements was used to determine accurate stress state in the nozzle The fatigue life was then calculated based on the stress results.
High resolution ODS vibration measurements on stage 1 bottles in order to validate assumptions made in the FE analysis of the stage 1 discharge bottle flanges.
Results:
Integrity : the assessment allowed the client to continue operation with regular internals determined through the analysis.
Quality Standard: Satisfied client high technical expectations.