Given our ability to adapt to your sector's specific needs and our knowledge of dynamic design, pulsation and vibrations mitigation, stress analysis and mechanical design, we can propose solutions that will optimize your assets and ensure a safe operation.
Our experts understand your specific challenges; that's why we take care to designing solutions that reflect your needs. By developing cost effective solutions to your situation, we can help increase your reliability and productivity.
Field Vibration Survey and Mechanical Analysis on Transfer Compressor Packages
Above guideline vibrations were noted in the field.
Unsupported piping was identified.
A detailed mechanical analysis was required to reduce piping natural frequencies in accordance with API 618 4th Edition M4 guidelines.
Results:
Integrity and Safety: Mitigation of vibration to avoid failure and downtime.
Reliability: Replacing U-bolts supports with properly designed pipe clamps.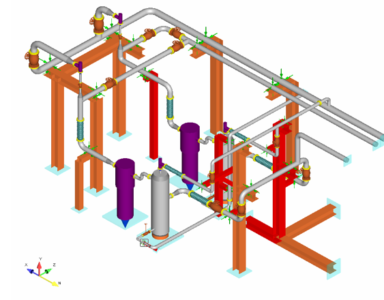 Pulsation and Vibration Analysis on Two Positive Displacement Compressors
Retrofitting two positive displacement compressors from nitrogen to oxygen service after 30+ years in service.
Both compressors share common headers.
Design approach was to complete a comprehensive parallel pulsation, forced vibration, and thermal stress analysis.
Project specific challenges included: collecting sufficient data on old compressors, elevated piping, shared pipe supports, and support location limitations.
Client Benefits:
Analysis was critical in determining the proper support locations where placement was limited.
Pulsation magnitudes were reduced at all compressor run combinations.
Pulsation frequencies and severity were calculated and set to avoid piping resonance through support sizing and design.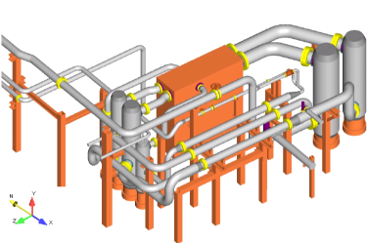 Stress Analysis on Cryogenic Facility
Installation of three new liquid nitrogen pumps.
Piping routing included storage tanks, transfer tanks, existing centrifugal pumps, three new pumps and nitrogen vaporizers.
Analysis was primarily focused around the thermal stress caused by the large variation in cryogenic temperature and the bowing stress in transient conditions while filling lines or from nitrogen flashing.
Modal analysis was included to prevent resonance-related issues on major piping structures.
Client Benefits:
Analysis added multiple expansion loops to accommodate piping flexibility.
Piping support was designed to prevent lifting from structure under bowing stress.
Client was able to find a compromise between flexibility and stiffness to meet targets and reduce vibration and stress concerns.