Horizontal Directional Drilling
Ensure successful directional drilling design by using the expertise of our team. Gain peace of mind about pipeline to HDD tie-ins. Our sophisticated tools can be used for any scope of project, no matter how big. With capabilities that rival the best we can produce accurate and cost-effective results which conforms to the PRCI, CSA or ASME standards.
HDD Removal
Decommissioned pipe installed under a river crossing was to be removed according to regulatory requirements.
Customer needed to understand the rupture load for pulling an HDD.
Determine ultimate strength of the existing pipeline.
Performed Pipe Soil Explicit analysis to show the load required to rupture the pipe.
Results:
Simulation results found that force required to pull the pipe out would rupture the pipeline.
Client was able to choose a different removal approach, avoiding costly failure of original method.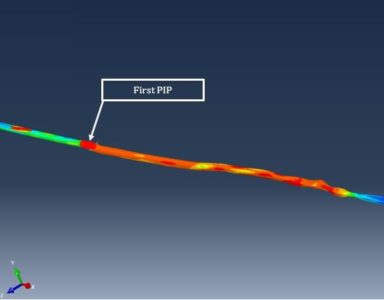 HDD Crossing Stress Analysis
Design and analyze a generic cased, insulated and grouted HDD crossing up to 2.2Km long.
High fidelity 3D continuum analysis and CFD analysis of preheating process were performed resulting in identification of critical stress issues.
Results:
Recommendations were made to alleviate the stress issues on the HDD.
HDD Stress Analysis
The project involved the installation of an underground pipeline section by horizontal directional drilling (HDD) method.
The HDD tie-in overbends were analysed.
Detailed recommendations were made to comply with CSA Z662 allowable stress limits as well as reduce the risk of upheaval buckling.
Results:
System design ensured safe operation of the pipeline.