AP Dynamics can assist in increasing the reliability of your turbines packages. We provide the highest quality client-oriented project services using sophisticated testing and simulation equipment. Our team of experts can help you with any of your needs when it comes to improving the performance and productivity of your equipment.
Root Cause Failure Investigation of Two Blades from a Gas Turbine Stage 1 Compressor
The analysis undertaken was to investigate two scenarios:
The effect on the blade from the impact at a discrete location of an ice mass.
The effect of a tip rub.
Results:
The analysis confirms that a singular impact on one compressor blade can produce the physical distortion observed.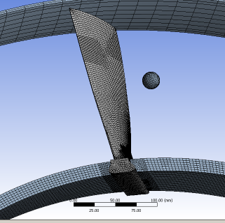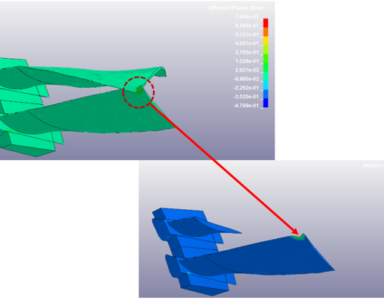 Lateral Rotodynamic Analysis for a Centrifugal  Gas Compressor Dirven by a Gas Turbine
The analysis was conducted in conjunction with a retrofit project to replace the existing oil seals.
The analysis included:
Tilt-pad bearing analysis.
Undamped critical speed analysis.
Damped unbalance response analysis.
Stability analysis.
Results:
Predicted that the compressor should have no operational vibration issues as a result of the new seal upgrade.